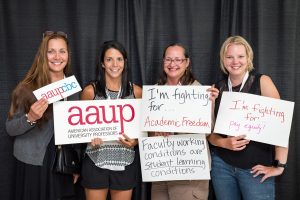 WHY YOU SHOULD JOIN UF AND SUPPORT OUR WORK
Together we are stronger. Your solidarity helps us achieve more for ALL faculty.

UF enjoys broad support among faculty. In our Fall 2018 recertification vote, 547 faculty voted yes to support UF and only 17 voted no. In the following recertification vote in Fall 2020, 97.5% of those voting supported UF with a YES vote!


UF collaborates effectively with other faculty leaders and administration to solve problems, create fair policies, and to protect your rights and fair working conditions

As UNI confronts falling enrollments and budget challenges, as a new faculty evaluation system is rolled out, and as our general education curriculum is revised, the potential for serious threats to faculty abounds. We need a strong union to stand up for faculty, and we need you with us.

More than 80% of our dues go to our membership in American Association of University Professors (AAUP) or our legal counsel. Both of these have been powerful assets and critical allies.
RECENT UF WINS:
Bargained one of the largest salary increases in last twenty years.

Led the development of fair and equitable faculty evaluation system.

Helped establish new promotional ladder for adjunct and term faculty.

Supported expansion of voting rights to include term faculty and eligible adjunct faculty.

UF collaborated with other faculty leaders to advocate for full voting rights for contingent faculty, which passed in the Fall Faculty Meeting 98-3.

Filed an Aug. 13, 2021 OSHA complaint against the Iowa Board of Regents and its inadequate policy on the COVID-19 pandemic, citing "

unsafe working conditions" that affect "

approximately 650 faculty members" at UNI and bringing statewide and national attention to the issue.
NOW FOCUSING ON:
Child care

Termination procedures and tenure protections

Expansion of benefits